Hi all
Here are my swatches for the new spring Botanical Awakenings Gelish collection launched in the UK as singles straight away on the 25th March 2016.
At first glance this collection doesn't really have any must have stand out new colours, however on closer look I consider this collection a good buy, in that they are staples that your clients will want to go back to time and time again. The collection is based on fresh floral colours which includes 2 neutrals, 3 pinks and a red. After last springs discontinued ooh la la collection (which I loved) I'm glad to see some slightly similar shades. There are Morgan Taylor nail lacquer matches available.
So let's take a look at the colours (the pictures show the colours over hard gel extensions following my fabulous PhD training – totally worth doing).
Rose-y Cheeks – 2 coats (needs warming)
When I looked at this colour on the advertising I felt it looked a lot like Ella of a girl, however on application I'm pleased to say it's more similar to can-can we dance with its light coral pink with a pearl finish. I love this colour in the led lighting with its subtle shimmer and I can see my clients loving this one to.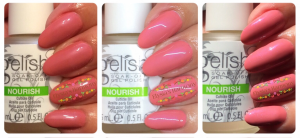 Warm Up the Car-nation – 2 coats
Nail Harmony state this is a hot magenta pearl and yes it has a pearlised shimmer frosty touch to it, but to me it's more of a medium pink going towards red. Think sugar plum dreams but without the transparent finish. It applied nicely and didn't need warming.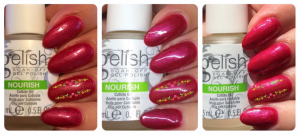 What's Your Poinsettia? – 2 coats
As expected this medium frosty pearl is a great two coater just like queen of hearts and I'm so hot, but it is very similar in colour, finish and application, so doesn't really offer anything new. But is admittedly slightly lighter. That being said its been chosen by 2 clients already so is going to get well used.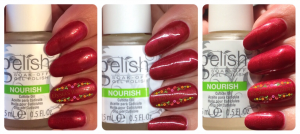 Don't Pansy Around – 2 coats
This was my favourite colour of the collection, it's a bright (but not neon) medium crème pink. It applied nicely without any warming and is just a lovely every day colour. Please not this is an easy one to apply too thickly so keep the coats thin.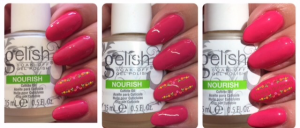 Prim-rose and Proper – 3 coats
This colour is a light taupe cream with a hint of pink (less so then tan my hide). Yes it is indeed similar to other neutrals in past collections so you could do without. That being said it is different from tan my hide as you can see from the additional picture and I can see it being chosen quite a lot over the wedding season. So if you plan on doing brides and weddings I believe be it would be worth the investment.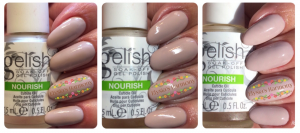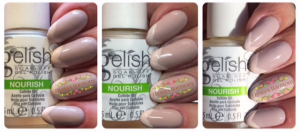 I Or-chid You Not – 3 coats
Another taupe creme which is very similar to rodeo however is more mushroom and slightly lighter and in the additional photo you can just about see the difference when applied. I actually much prefer this colour and I am looking forward to wearing it on my hands for longer then 5 minutes.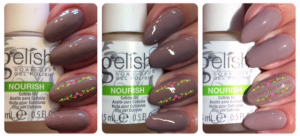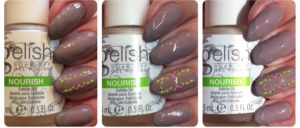 Swatch sticks  and comparisons
I apologise for the state of my swatches I knocked acetone over on my desk when I had my light nude swatches out and it ruined quite a few and I wanted to get this out so haven't re done them yet.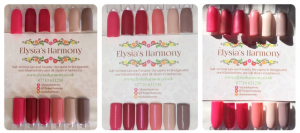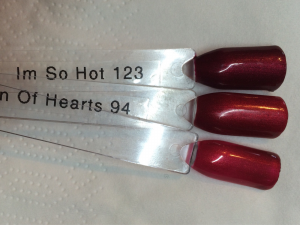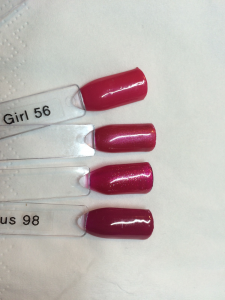 The bottom unlabelled swatch is sugar plum dreams.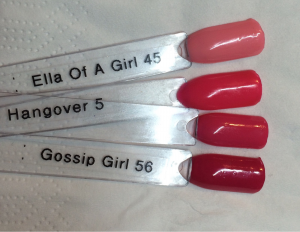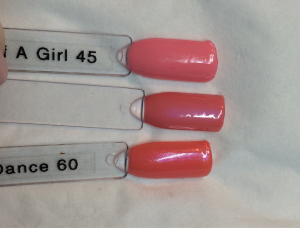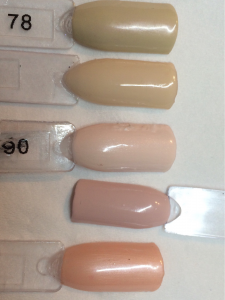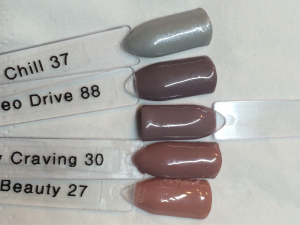 Conclusion
This is a collection full of useful every day colours that your clients will go back to time after time. My top 3 are Rose-y Cheeks, Don't Pansy Around and Primrose and Proper.