Do you want to learn the art of nails? Well now is your chance with multi-award winning nail artist Elysia Harmony.
With so many courses out there its important to find a teacher that you can trust, teach you what you want and need to know whilst, supporting and encouraging you. Wether you are just starting out in the industry or are looking to expand your knowledge and skills we have options for you.
1. Beginners
Beginners can learn in person 1-2-1 or in a small group setting, giving you the perfect foundation for your nail journey. Courses are available in:
Manicure, Pedicure, Gel polish, Hard Gel, Acrygel, Acrylic and Efile Combined Manicure.
For those already trained, refresher and translation courses are also available.
If you love learning further techniques online then there are two great options
2. Nail Artitech Courses
Build your confidence
Improve your nail art skills
Add that little extra to your nails
Stand out from the competition


A fantastic chance to learn online at your own pace. The Nail Artitech Courses focus on nail art and design with training via facebook groups. You can join the "Nail Art & Architecture Group" where you can see the designs and courses that are being offered each month. Plus with the added bonus of 2 free tutorials in the group each month as well. The "Nail Artitech" courses will then be offered in private groups with 4 tutorials every month for just £20. The  workshops range from quick beginner designs that you can level up into more complicated and advanced creations. Alternatively you can pick and chose the tutorials you want to learn and pay as you go for £10 for each workshop.
You can find more information in the "Nail Art & Architecture Group" or read about them in the blogs.
2. Nail Architecture Course
If you:
Struggle to create consistent extensions
Create a salon standard set in a viable time
Lack confidence in your ability
Want to expand your structural knowledge
Create nail extensions that last and look great
Offer different shapes for your clients
Stand out from your competition
Then you need the Nail Architecture Course.
Each month we focus on a different nail shape ranging from square, to lipstick to edgy stilettos. We look at how to create the shapes in not only different product mediums but also how to adjust for different lengths and natural nail shapes. You can join in at any time and will have life time access to the courses and groups, so support is always on hand.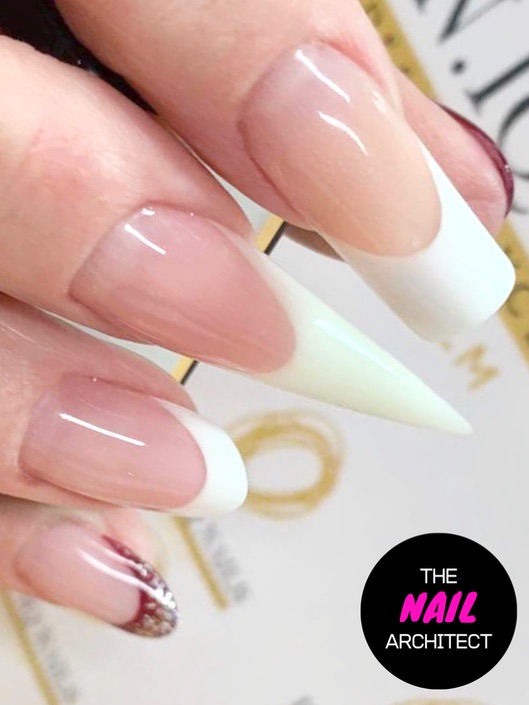 Want to find out more, then click on this link to check out the blog post.
Christmas Nail Art Course
Do you struggle with inspiration and ideas for your nail clients
Lack in confidence
Want to improve your skills
Then why not join the Christmas Nail Art Course offering 125 different designs for you to recreate with over 30 hours of video tutorials.