Hi everyone, here are my swatches for the Red Matters collection launched by Nail Harmony on 28th September 2015 in the UK. This collection has 6 core colours and 3 trends. I think this was originally meant to be the Christmas collection however has been released early so it is unlikely there will be another collection now until spring. As a result of this there hasn't been much lead up, pictures or content about this one so I hope you find this helpful when deciding colours choices. You will find the colours in different  lights so you can get a truer reflection of the colour and there is no editing effects or smoothing, just my nails painted with the legitimate colours (indoors, LED and outdoors).  Please let me know your thoughts and opinions on the colours, as per usual these are my thoughts and in not those of Nail Harmony UK.
Fire cracker – 2 coats
This is a bright red creme with a slight orange tinge and applies nicely in 2 coats.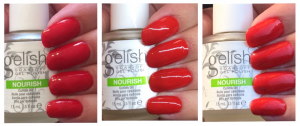 Scandalous – 1/2 coats
This is your pillar box red, it's a hot red creme and is seriously pigmented. Out of all these colours you had to apply this seriously thin and warm before hand to avoid wrinkly. You could do this in one coat, but I would always do two for longevity.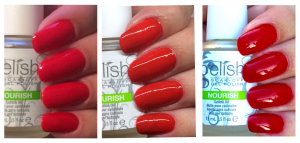 Ruby Two Shoes – 2 coats
This is a beautiful scarlet red colour it has a slight shimmer to it which is just beautiful it also applies beautifully in 2 coats.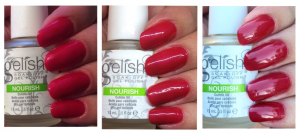 Man of the moment – 2 coats
This is a medium red creme which applies well in 2 coats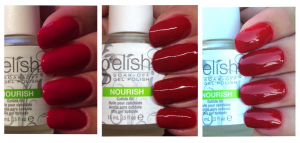 I'm so hot – 2 coats
This is a beautiful red / burgundy shimmer which applies really smoothly. Think queen of hearts but a bit darker.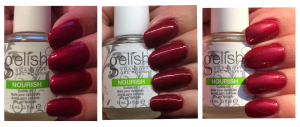 Red Alert – 3 coats
This is a deep red cream which looks seriously shiny. I did find it a little on the runny side so make sure you dry brush or flash cure to avoid running into your cuticles.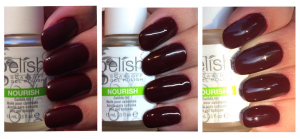 My Secret Santa – 3 coats
This is a fine white glitter, I was pleasantly surprised at how good a coverage you could get in just 3 coats with this trend. This is the only topper of the collection though and I think will look beautiful over the reds.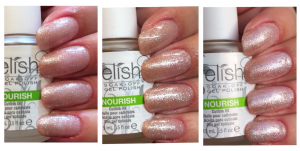 Tinsel My Fancy – 2 coats
Yet another silver, but what makes this one different is the beautiful subtle blue metallic sparkles it has in it.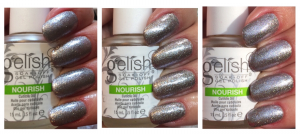 Put A Bow In It – 2 coats
This is a sage green metallic colour which has brown specks in it. Very Christmassy.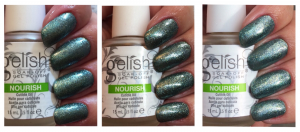 Comparisons