Hi all. Here are my swatches of the latest Gelish autumn collection from Nail Harmony UK. There hasn't been much lead up, pictures or content about this one so I hope you find this helpful when deciding colour choices. You will find the colours in different  lights (indoors, LED and outdoors) so you can get a truer reflection of the colour and there are no editing effects or smoothing, just my nails painted with the legitimate colours.  As this is the first of such posts I am doing please let me know if there is anything else you think I have missed in my initial quick review.
Sweater weather – 2 coats
Nail Harmony UK consider this to be a mellow charcoal grey. To me it is a cream mid to dark grey with a slight purple tone. It had a good application in just two coats.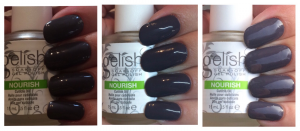 Rhythm and Blues – 2 coats
A beautiful denim metallic blue completely different from any other Gelish colour. It had a great application in just two coats.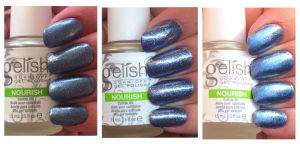 A Little Naughty – 3 coats
This is a on the darker side of a red / brown. It had a good application in 3 coats. *Nail Harmony have now updated their website and actually class it as a purple, so think it girl with a mortared / brown tone.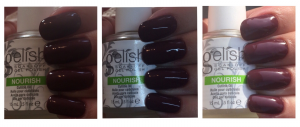 Last Call – 2 coats
This colour is awesome. It's a copper / pink metallic and applies beautifully in 2 coats. If your you or your clients are a fan of oh what a knight this one is definitely for you.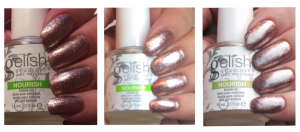 Give Me Gold – 2 coats
Another beautiful metallic gold which is quite light and fantastic to apply in just 2 coats.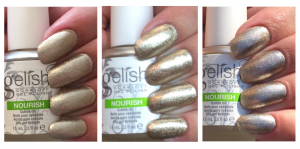 A-Lister – 2 coats
Another silver following the success of chain reaction from the urban cowgirl collection. It's not quite as good a consistency so instead of 1/2 coats this one is a 2/3 coats. Personally though I much prefer this colour it is a light bright metallic silver.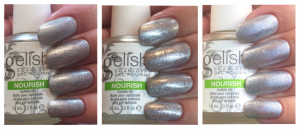 Colour Comparisons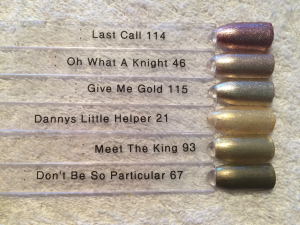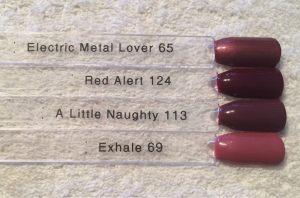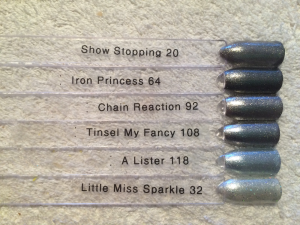 I don't have many greys at the moment so this is a picture I took at the recent Nail Harmony South West Road Show.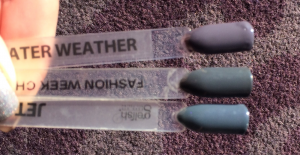 I am so pleased with this collection, its offered me many new colours, I can't but help think that I would have liked 6 metallic colours perhaps a green and a maybe a purple, but all in all I love this collection especially with the application and consistency  its great value for money. And if you grab it now then you actually get one polish free. I would love to hear your thoughts and comments below.