I have decided to do a new category of blog posts about what I am doing each week to help realise my current dream of owning my own spa. I figure, even if no one reads it, it's still motivational for me getting it all down on paper and helping to push myself.
As this is the first of such posts it's mostly about what I have achieved so far and where I started.
About 5 years ago I started to think what I wanted to do with the rest of my life. At the time I was working in the family accountancy business, something I still dip in and out of at the moment, but my father started thinking about retiring so it was either gain a lot more qualifications in accounts or try something new. I opted for the new option. I wanted something that was fun, engaging and social. At the time I was spending a lot of money each week at a salon and so I decided, wouldn't it be great if I owned my own salon and didn't have to pay to have treatments. So with this firmly in my mind I decided in order to have a successful business I had to learn about it from the ground up in order to help out and fill in if people where sick and to have respect from those I hoped to employ and not have the wool pulled over my eyes, and so enrolled myself on a beauty therapy NVQ2 course around my full time job.
The course should have taken me 2 years however I missed the last 3 months after the dr told me it would take me at least 6 months to get pregnant, which it did not lol. Following the arrival of my beautiful daughter I went back to complete the course just over a year later.
On completion of the course I soon learnt that as a busy mum who still worked doing your nails was either impossible due to time constraints and if you did manage to give yourself that little well earned treat, the polish would chip a few hours later. Unhappy with wasting my time for a dodgy looking polish I decided to research in to what else was out there for people who simply could get a manicure to last. I researched lots of different companies and trailed various different products from the likes of bio sculpture, CND, Jessica and OPI but it was Gelish from Nail Harmony that came out on top. Not only did I manage to keep a chip free beautiful french on my nails for 5 weeks it had been (and continues to be) awarded the best education award by Scratch Magazine. I emailed my local educator to find out more and get myself booked on the Gelish 101 course. I had an absolutely fantastic day learning lot of different tips and tricks on how to carry out a good Gelish manicure. I had all my new goodies and I was keen to get started. I set up my Facebook page and just went for it. With in a week I had my first fully paying client who had sort me out as opposed to friends or family. I was so excited but nervous at the same time and then when I got to her house (I was starting out mobile) I found she was an extreme nail biter. I decided to not let it phase me and put into practise all that I had learnt on my Gelish training and I was pleased that they lasted over 2 weeks.
I continued to work evenings offering mobile appointments to those who wanted them, but I was also starting to get lots of requests for extensions. So back to my educator I went where I studied hard gel. I decided on hard gel as opposed to acrylics as I wasn't sure about the smell of acrylic. Although having now studied Prohesion liquid and powder I found it didn't bother to much and is one of my most requested services. I continued to work my way through all of the Nail Harmony programme and I am excited to hopefully finish next month with the last training for me being the reflections design PhD (which is an advanced liquid and powder design course). Then all that remains is to complete the final exam to gain my Nail Harmony PhD.
Since my daughter started pre school in January this year it has allowed me the time to seek work during the day (as she had always come to work with me for accountancy). I decided against further building of my mobile business in Bridgwater and just stick to the clients I have there and focused my attention on areas that I felt would appreciate a great service and not just the cheapest service. I researched the different locations I wanted to work and came up with my new catchment areas, hit the streets with my portfolio and was lucky enough to get 2 salons to work in. One in Wells and the other in Castle Cary, both of which I started in April this year.
Heres my first ever Gelish on myself back in Autumn 2014 and then one of my sets from last month (May 2016) using Prohesion and Gelish to show you how far I have come.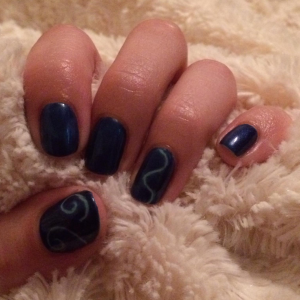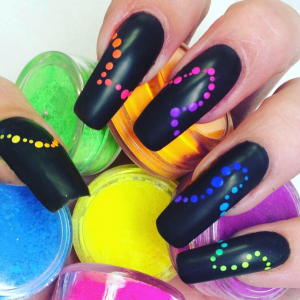 So thats a quick round up of where I am now, and here's what I plan to do this week to help me on my way of achieving my dream of owning my own spa.
Finish my designs for the Nails Mastered Spring / Summer Trends for 2017. Keeping on top of up coming trends is important to me as I hope it helps gain me the fashionista clients along with adding further designs to my portfolio in order to expand my client base in the salons.
Start thinking about my timetable of where I want to be and how I'm going get there for the next 2 years.
Plan where I see myself in 5 years and 10 years (hopefully my own successful spa).
Attend a one stroke course on the 19th as I feel this would be a very popular add on to my services.