Hello everyone
Well I'm pleased to say Gelish have nailed the application of these 6 shades, each one applying in 2 coats. This Autumn / Winter collection comprises of 3 reds and sparkly rose gold, silver and black / blue.
The colours have been applied over p&w style prohesion and due to the course I'm currently studying stilettos. As per usual the pictures show indoor, led and outdoor lighting. However it has been very gloomy and I have not managed to get any shots in the sunshine so will upload some more pictures further down the line. In the mean time let's take a look at the colours.
Just Naughty Enough – 2 coats
This colour has been marketed as a pink with glitter. On application the gel is a orange bronze (which in its self would have made a great colour), but once cured gives the rose gold colour. It's in-between oh what a knight and last call but with a bit more sparkly bits.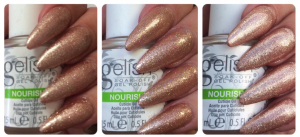 Let's Get Frosty – 2 coats
Again applying beautifully, this is bright and light with sparkles of red and pink. Personally I like my silvers to stay silver but a unique colour. When you first apply this colour it looks very gold, however cures to silver. The reason being that the photo initiators in the product show as yellow. Once the photo initiators are used in the curing process the yellow colour is no more.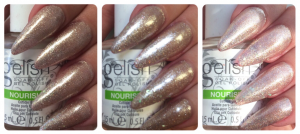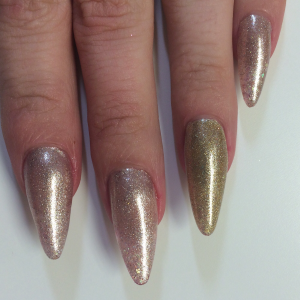 Girl Meets Joy – 2 coats
This new colour is a dream and will be great for the partying season. It's a very dark indigo with blue, purple, pink and silver flecks. Think Angel in disguise on steroids.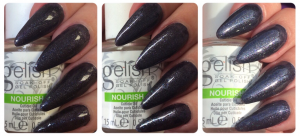 You're So Elf Centred – 2 coats
Another fabulous red frost, a little darker but on the same lines as I'm so hot it will be a staple colour. If you don't have I'm so hot or what's your poinsettia then a great investment.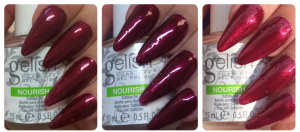 Rocking My Stocking – 2 coats
I love this colour, it's glittery shimmery lushness. A mix between good gossip and queen of hearts this will be exceptionally popular around the festive season.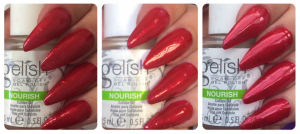 Who Nose Rudolph? – 2 coats
This is a fabulous pillar box red it's leaning to the bluer spectrum as opposed to orange or pink. I did experience ever so slight shrinkage so be careful to cap the edge. Also there was quite a bit of transfer on to my top it off. To try and avoid this, cure each layer twice and make sure to float the top coat.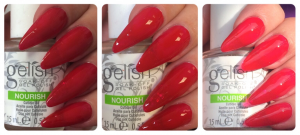 Matte vs Top It Off Comparisons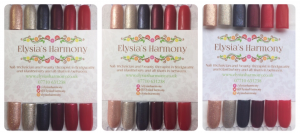 Swatch Stick Comparisons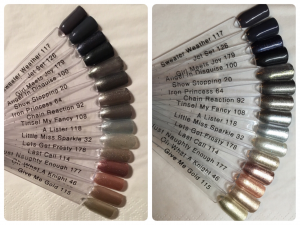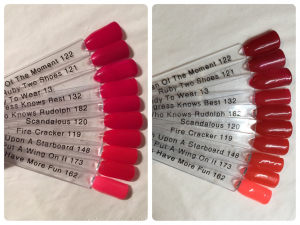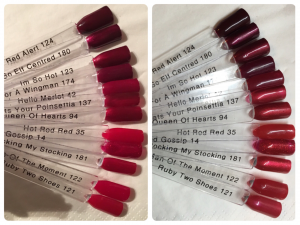 Summary
The application of these colours is right on the money. You can see this collection being great for the party season with lots of glitz and glamour. Some of the colours are similar to past releases but will still fly off your shelves. If I were to pick 3 to purchase I would go with girl meets joy, you're so elf centres and rocking my stocking.
I'd love to hear your thoughts or see any pictures 🙂