The latest Gelish collection for Autumn 2016 is the Sweetheart Squadron collection. Available from nail harmony UK as of the 30th July. It consists of 6 fantastically autumnal shades from nudes, to reds and a khaki green. So let's take a look.
Up in the air-heart – 3 coats
This is a dusky peach colour which will be good if you have lots of clients wanting a nude with a twist. I think it probably suits the more tanned and dark skin tones but if you like it go for it 🙂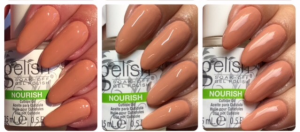 Perfect landing – 2 coats
I really like this smoky coral colour, perfect again for those wanting to keep things on the neutral side but feeling a little adventurous. It is fairly similar to others, the new sun kissed bliss and sweet morning dew, but us slightly duskier. It's been a firm favourite of clients already.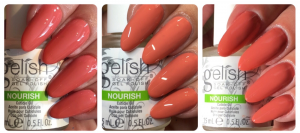 Put a wing on it – 2/3
This vibrant red had been given a new twist with a golden shimmer. The pictures above show 2 coats which if you've got flawless nails will be more then fabulous. However on mine where I've been swatching the other colours you can see where I haven't quite got all the previous polish off, so don't cut corners with this one as it is beautiful and applies nicely to.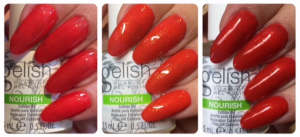 Looking for a wingman – 2 coats
I'm in love with this beautiful rich burgundy colour, it's truly stunning and I can't wait to do some beautiful designs with it in the autumn. It's suitable for most clients professional, mature and young and it applies lovely. I didn't experience any shrinking or bleeding with this one. I love it. Due to this I'm including the picture below of them whilst I was applying pulsar from the nail space on a clients nails. This will be a very popular combo come Christmas.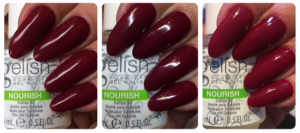 Oh para-chute – 2 coats
If you've been waiting for a khaki green you've got it with this understated sage. It applies beautifully in two coats. It is suitably different from holy cowgirl as its got much more of a grey tone.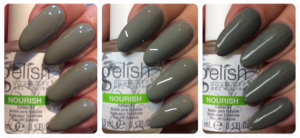 Rule the runway – 2 coats
Another grey taupe, but it applies beautifully in two coats and is a little lighter then rodeo and I orchid you not, but not an essential.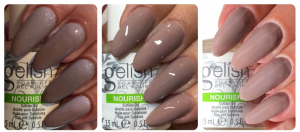 Swatches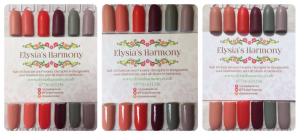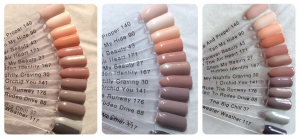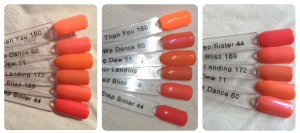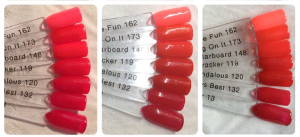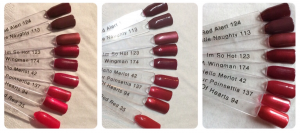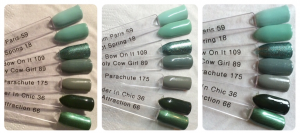 Summary
The application of these colours are once again great.  With several of these colours set to stay firm favourites. I am pleased that they offers a few new shades to my collection. My top 3 for clients would be perfect landing, looking for a wingman and put a wing on it. Oh parachute is lovely and a bit different but is unlikely to fly off the shelf.
As always I'd love to hear your thoughts 🙂