Name: Holy Cow Girl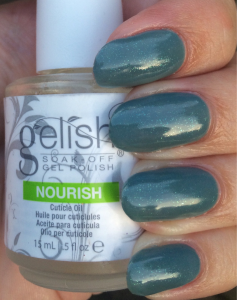 Collection & UK launch date: Urban Cowgirl, 4th August 2015 (singles 29th August 2015)
Description & personal opinion: this is a sage green crème with a beautiful subtle gold shimmer and grey tone, again it's another brand new colour to Gelish and I love it for autumn.
Matching nail polish: yes, Morgan Taylor holy cow girl available in the UK 1st September 2015
Viscosity: crème base so can run quite thick in the cold.
Application: just 2 coats.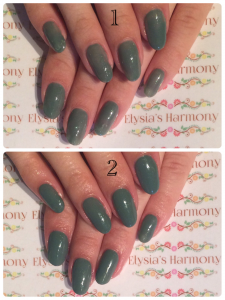 This applied like a dream, no shrinkage, wrinkling or running.
As this is a crème colour, if you are in a cold salon you might wish to warm the bottle before application to keep the polish thin for easy application. You can do this by standing on a warm wheat bag, placing in a bowl of warm water or any other method you prefer. 
Lighting variance: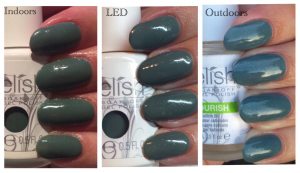 Sparkles & trends: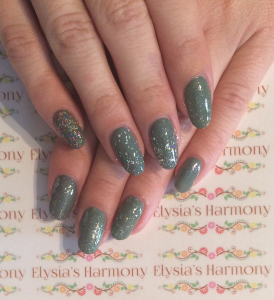 Top: lots of dots, escargo to Paris, grand jewels, June bride,
Bottom: am I making you Gelish? Vegas nights, rough round the edges and izzy whizzy.
Longevity: this lasted really well. As you can see from the pictures I quite substantially broke my nails this week doing a big declutter and clean. Thankfully the Gelish held even with 2 coats and stayed strong even though my nails underneath had cracked.
Fading: none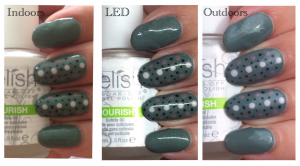 Removal: easy removal on this one.
Similar colours: this is a really new colour for Gelish and I have struggled to find a similar gel polish. The nearest is possibly LeChat tranquility but this does not have the shimmer.
Artwork:
A dotty design using tan my hide, from rodeo to rodeo drive and pumps or cowboy boots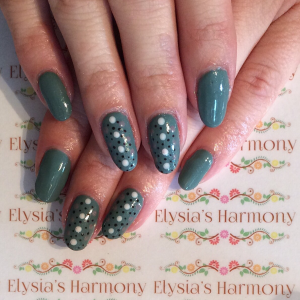 My verdict: this colour is great, with 2 coats I was amazed at its strength and application. It's a completely new colour from anything around and with its gold shimmer is just awesome for the colder months. You are definitely on to a winner with this one.
Next week: from rodeo to rodeo drive