Hi all.
Here's the newest summer collection from Gelish. First released in the UK at the Birmingham beauty show in May with main sale opening 27th May 2016 (Sally's are meant to release them on the 28th of June).  This time the swatches are back on my natural nails and as per usual the lighting is indoor, led and outdoor. The collection comprises of 6 upbeat colours and comes with a very upbeat speaker to (which is fairly descent) and draws inspiration from street art. There are as per usual Morgan Taylor matching polishes.
Cou-tour the streets – 3 coats
This colour has been advertised as a lilac cream and it does indeed have a lilac tone in it when I was grouping it with my swatches. To look at on its own I personally see a light bubblegum pink. I found the application a little watery with this one 🙁 so lots of warming and stirring is required for a nice application in 3 coats. I do not have similar colour to this and will be a nice addition to my collection.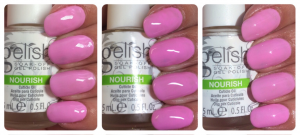 B-girl style –  2 coats
This is beautiful neon pink peal with a good application, I love it. This is most like make you blink pink but with a far superior coverage.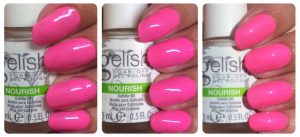 Hip Hot Coral – 2/3 coats
This bright coral red is beautiful with a stunning orange gold pearl finish and is unlike any other Gelish colour I have. I think it again could possibly benefit from a white underneath but is a personal choice. A new colour to my collection and I can see it be very popular.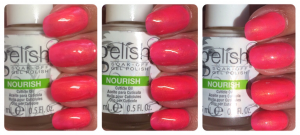 Tag your it – 2 coats
This bright fascia pearl has fantastic coverage and great application in 2 coats. It is quite similar to kung fu fuchsia but a little lighter and I can see it being very popular.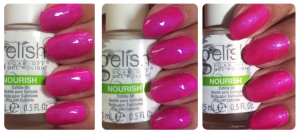 Street Cred-ible – 3/4+ coats
This is an orange yellow which is really very beautiful, however the application and consistency are a little thin for my liking. You can see from the swatch comparisons below the difference putting white beneath it makes, so I think I would probably do 2 arctic freeze and 2 colour coats. This picture actually has 5 coats. On practice with the application of this colour I have come up with two options.
Apply a thin coat (not curing, then another thin coat and cure, do this three times and you get a beautiful coverage.
Apply two coats of arctic freeze and the. Either 1 or 2 coats of colour to give a beautiful coverage.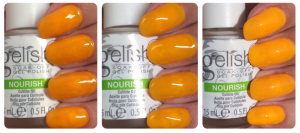 Give Me A Break-dance – 2/3 coats
This teal pearl is very beautiful and I do not think the pictures do it justice. The application was OK in 2 coats however I think I will stick with 3 for clients. Its got a nice shimmer in it however is very similar to rub me the sarong way, so if you already own that I think unless you really desire this its not really a must have.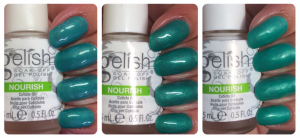 Swatches and Comparisons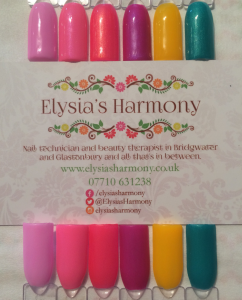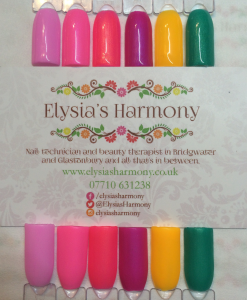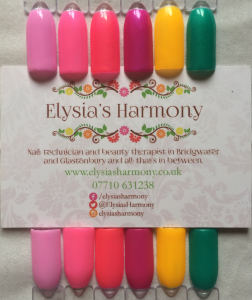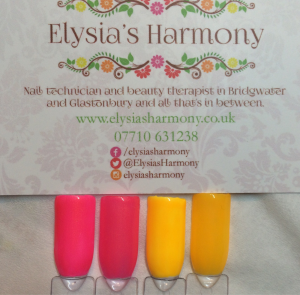 Summary
I was really looking forward to this collection and the colours do not disappoint. The application isn't quite what I have expected of recent collections but is still reasonable once you've figured out what works best for you. Business wise my top 3 would be: B-girl style, Hip hot coral and Tag your it, as these three would be in my view the most popular with clients and have a reasonable coverage. For me personally I would buy: Street cred-ible, Tag your it and Give me a break-dance as they are colours I would wear.
I hope you find this helpful and would love to hear any comments or feedback you have 🙂